Pathways15: Keynote: Accessing fulfilling careers: developing the employability of your students
Helen Cooke, MyPlus
Key reasons that students go to university are that they either wish to pursue a particular career or to help them to get a better job than they would have done if they hadn't gone. The same is true for disabled students yet it remains considerably harder for them to find employment upon graduating than for their non-disabled counterparts. Research finds that disabled graduates at all qualification levels are less likely to have obtained full-time employment than non-disabled graduates (AGCAS: What happens Next? - a report on the first destinations of disabled graduates).
The reasons that disabled students find it harder to gain internships, placements and employment are many and varied including individuals lacking the confidence to apply to employers, believing that their disability will rule them out of the running for graduate-level jobs. In addition, some disabled students have not immersed themselves in student life instead believing that academic achievement alone will make them employable; they therefore lack the employability skills that employers demand.
Employers look for much more than just good academics. They want rounded individuals; those who have immersed themselves in university life and taken positions of responsibility, developed leadership skills, shown initiative, etc. And this will involve students joining clubs and societies, volunteering, gaining work experience and developing the skills required to successfully navigate recruitment processes.
However, if you lack confidence, combined with the added challenge of managing your disability, getting involved can seem impossible and it will take advice, encouragement and support from stakeholders from across the university to work together to address this.
To address this issue, stakeholders from across the institution must all understand the specific challenges facing disabled students as they transition from education to employment, and be in a position to support them with accurate information, expert resources and tailored advice; this includes student support staff, careers advisers and employability teams, and academic staff with a wider employability remit.
During this keynote, delegates will:
Understand the student voice:
Why disabled students are not fully immersing themselves in university life and the impact on transitioning into employment
Understand how best to manage student expectations:
By developing your own knowledge of the main concerns that disabled students have when applying for a job
Challenge their assumptions of what is possible for disabled students
Understand how you can change practice
Bio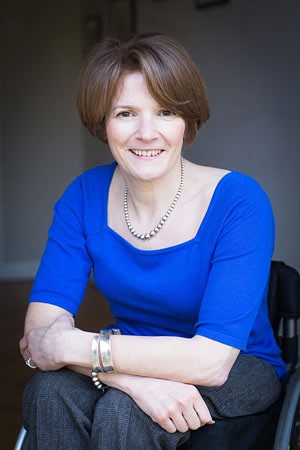 Helen Cooke, CEO of MyPlus and Founder of the MyPlus Recruiters' Club and MyPlus Universities' Club, is recognised nationally as a leading expert in disability and graduate recruitment. Helen works with organisations to provide them with the expertise to be disability confident in their strategy, their processes and their engagement, and realise the possibilities of hiring and retaining more people with a disability. Clients include: Barclays, EY, Enterprise Rent-A-Car, Linklaters, and Teach First.
Helen is also behind MyPlus Students' Club. An innovative website which provides students with disabilities or long-term health conditions, the advice, support and confidence to find opportunities, approach relevant organisations and go on to realise new possibilities with progressive employers. It also provides a platform for businesses to showcase themselves as disability confident employers.
The uniqueness of Helen's approach comes from her expertise in HR and graduate recruitment combined with her first-hand experience of disability; Helen is a wheelchair user as a result of a childhood spinal injury. She started her career on the M&S graduate management programme before moving to Mars where she spent 10 years, mostly in HR and Resourcing, before setting up her business.
In addition to her own experiences of disability, Helen has worked extensively with other disabled individuals. The majority of this experience comes from her involvement with The Back Up Trust, an organisation which supports spinally injured individuals. Helen is a mentor for the Back Up mentoring programme and became a Trustee in 2016.
Helen is an Associate member of the BDF (Business Disability Forum); is listed in the 2018 and 2020 SHAW TRUST Disability Power 100 List of 'Most influential disabled people in the UK'; and is a Commissioner on Lord Shinkwin's 2020 Disability Commission.
MyPlus have developed a 'Be Disability Confident on Campus' Toolkit to help university staff build an understanding of the employment challenges facing students with disabilities and enables them to develop the skills, knowledge and confidence they need to improve employment outcomes for this cohort. To find out more visit: https://myplusuniversitiesclub.com/the-toolkit/
Related links